The Year Ahead

Each new year arrives with its own set of challenges for The Carter Center and friends like you who make our work possible, and 2011 is no exception. With your continued generosity, we can meet all of the crucial health and peace challenges we face in the coming year, including:
Continuing our pioneering work of integrating efforts against multiple diseases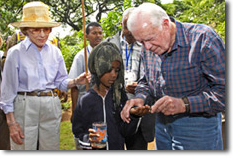 In the world's most impoverished areas, many people suffer from several preventable diseases simultaneously. By using the same volunteers and infrastructure to fight lymphatic filariasis, river blindness, and schistosomiasis in Nigeria, we can dramatically improve a sufferer's quality of life and make your contributions go much further, saving as much as 40 percent on program costs.
• Read the latest news about our health programs ►
We continue to apply strict diligence and determination as we near the finish line for Guinea worm eradication, a time when it is most important we not become overconfident.
• Read the latest issue of the Guinea Worm Wrap-Up (PDF) ►
• Sign up to receive the Guinea Worm Wrap-Up newsletter ►
---
Expanding the gains already made in ending the stigma of mental illness
This past November's Rosalynn Carter Symposium on Mental Health Policy focused on reintegrating returning veterans into the lives they left behind and how post-traumatic stress disorder affects not only them, but their families.
Now we are putting our experience to work in Liberia. With two decades of work fostering peace and democracy, we have just begun a new five-year initiative to help create a sustainable mental health system in that country.
• Watch our latest video, "Building Mental Health Care for Liberia" ►
---
Working to foster dialogue between nations and parties is essential to preventing conflicts and building peace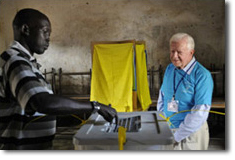 No matter where in the world we are invited to go or how intense the differences we are asked to help ease, The Carter Center stands ready and eager to help, putting to work the unequaled trust we have earned over the years. We believe that without persistence and political courage, there can be no hope for progress in resolving differences.
• Take a look at our latest work to strengthen democracy in Sudan ►
Important Carter Center Updates
Since its inception in 1992, the Winter Weekend has netted almost $16 million, providing critical support to The Carter Center.

Even if you can't join us at Club Med Sandpiper, you can still support the 2011 Winter Weekend and The Carter Center by participating in the 2011 Winter Weekend Auction! Later this month, view and bid on over 150 dynamic items in the silent and live auctions.

Justice for the Poor
Tuesday, March 8, 2011, 7–8:30 p.m.

The Carter Center is at the forefront of a growing international movement to find ways to deliver justice to the poor in places like Liberia and the Democratic Republic of the Congo, so that all people, not just those who can afford it, can realize their full rights as citizens. Hear from people working in the field about new and innovative practices that are improving access to justice in impoverished countries.
Mrs. Carter will appear at the following locations:
February 13, 2011
Harry S. Truman Library and Museum, Independence, Mo.
The Truman Library and the Independence Pioneers Chapter of the Daughters of the American Revolution Celebration of Bess Truman's 126th Birthday
4:00 p.m. program and book signing - $10 admission - Details here or call (816) 268-8200 for more information
February 14, 2011
Washington University: Graham Chapel, St. Louis, Mo.
2:00 p.m. program - Mrs. Carter remarks followed by panel discussion - RSVP here or call (314) 935-4620 for more information


Left Bank Books (Downtown), St. Louis, Mo.
7:00 p.m. talk and book signing - purchase a book for admission to talk - RSVP here or call (314) 367-6731 for more information


| | |
| --- | --- |
| | |